Login
Log in if you have an account
Register
Having an account with us will allow you to check out faster in the future, store multiple addresses, view and track your orders in your account, and more.
Create an account
4 Tips For Protecting and Maintaining Your Board Games
12 Sep 2019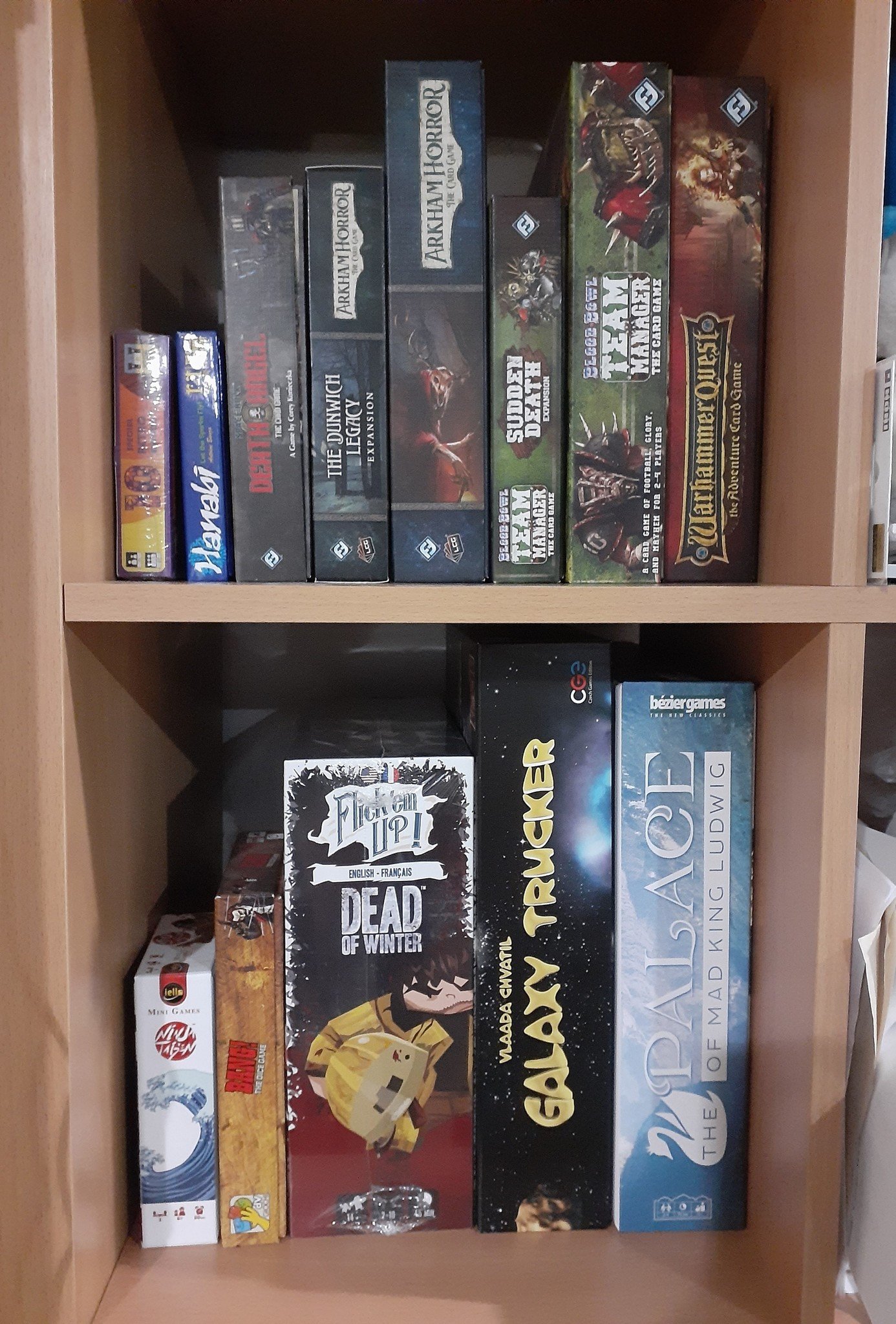 Board games can be expensive. Some board games can be really expensive*. So it stands to reason that you'd want to make sure that your games will last as long as possible, providing you with the maximum amount of entertainment for your buck. While tabletop pros may be old hat at this, this guide is aimed at those individuals who have just started their tabletop journey. Exercising proper board game care ensures that you'll be enjoying your favourite games for years to come. To wit, here are our top 4 tips for protecting and caring for your board games.
1. Sleeve your Games!
Ultimate Guard is one of several producers of quality card sleeves.
If you must take only one away from this list, it is this: SLEEVES! SLEEVES! SLEEVES! SLEEVES!
Many board games come with cards. Some consist exclusively of cards. But despite their ubiquity in board game design, cards are actually one of the most fragile components of any game.
Cards themselves vary widely in quality and durability. Some are printed on thick card stock, their high quality reflected in the price of the game. Others are printed on glorified cereal box cardboard, dog-earing and tattering at the drop of the hat. But regardless of their inherent durability, every card benefits from sleeving.
Your standard sleeve is made of plastic and comes in various sizes. Inserting cards into sleeves protects them from a variety of contaminants: dust, the oil on your fingers, food grease, etc. All of these have the potential to stain, damage, and degrade your cards. Some sleeves also provide added structural integrity to your cards, their thick plastic helping to prevent bending and dog-earing while they are being handled or shuffled.


Card sleeves come in many shapes and sizes.
Card sleeves come in a wide variety of sizes, and picking the specific size that you need is essential to properly protecting your cards. A sleeve that is too big runs the risk of having the card inside sliding around, increasing the chance of damage. A card sleeve that is too small will, at best, not fit the cards you want it to and at worst it may put unnecessary tension on the card, encouraging it to bend.
Luckily, figuring out the appropriate size of card sleeves you need for your game is easy. Board Game Geek - the community driven database of all things board game - has compiled a master list of sleeving information, arranged by game title, that lists the exact size and number of sleeves necessary to completely sleeve your games. In addition, many publishers, such as Fantasy Flight Games, will now list the necessary size and number of sleeves needed to sleeve a game on their product pages, making it easier than ever to find out what sleeves you need.
We carry several major brands of card sleeves such as: Mayday, Ultimate Guard, Ultrapro, Dragon Shield, and Fantasy Flight. If you happen to swing by our retail store, Mission: Fun & Games, our staff will be more than happy to help you pick out the right sleeves for your game.
2. Inserts, Organizers, and Upgrading Your components
E-raptor's Star Wars: Imperial Assault Organizer 
An "insert" refers to the internal structure of a board game box, usually made of cardboard or plastic, that keeps the components of a board game from shifting around in the box. Loose components have the potential to get damaged, especially if they are fragile or made of lower quality materials. If you have ever had a family copy of Monopoly whose plastic money tray has been lost, then you have experienced the unholy consequences of not having an insert. Folded paper money, fraying board edges, DICE AND PLAYING PIECES, LIVING TOGETHER! MASS HYSTERIA! (It's not a fun time, is what we're saying)
If you're lucky the designers of the game you just bought will have also put in the time and resources to design an insert that effectively stores, organizes, and protects its components. However, in many cases, inserts are the one place in which designers will cut corners, either making an insert of sub-par materials, one that fails to obey the laws of euclidean geometry (and thus making for a poor organizer), or neglecting to include an insert at all. For instance, Fantasy Flight Games - though an excellent publisher in most respects - is notorious for including inserts that consist of a single sheet of folded card board with an art print on it.
In order to fill the need for quality inserts, several companies have stepped in to design and produce well designed, space saving inserts and organizers. The reigning monarchs of this particular niche of board game accessories are Broken Token and E-raptor. Both companies produce durable wooden inserts, easy to assemble with no glue or extra tools necessary.
 Waterdeep metal coins from Broken Token. An example of one of the many high quality components that can take your game to the next level.
Both Broken Token and E-raptor also produce a host of other accessories and replacement components. These include durable tokens, coins, and overlays made of plastic or metal. In general, components made of these harder materials last longer, and are more resistant to damage. Though strictly optional, if you have the money to spare, upgrading your components can add not only durability to your game, but also the joy that comes from handling the heft of plastic and metal tokens. 
3. Proper Storage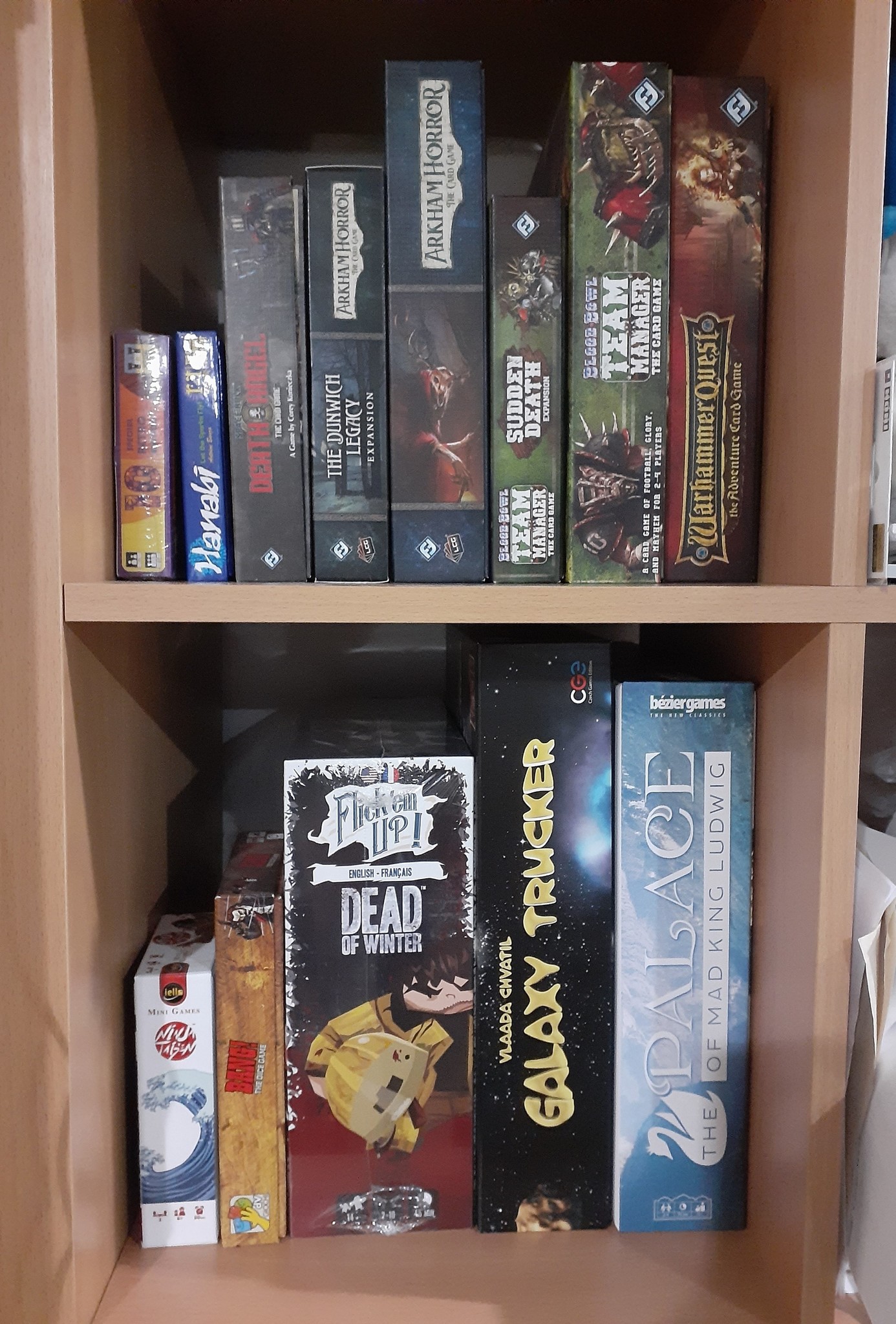 Pictured: Happy board games.
Properly storing your games is essential to increasing their shelf life (pun intended). There are a lot of environmental factors that run the risk of damaging your games, and setting aside a space specifically tailored for your games is often worth it in the long run. Here's a few things you should keep in mind when you are picking a space in order to store your games:
Humidity - Much like your high school gym class, you want to avoid accumulating excessive moisture while you play your games. Many of the materials that make up your average board game - such as card stock and wood - have a tendency to warp when exposed to humidity. Keeping your games in a dry place prevents this.
Temperature - Extreme temperatures, both hot and cold, hold the potential damage your games. In extreme heat components made of plastic or laminates can warp or melt, ruining them. Cold temperatures (of which our Canadian readers should have ample experience with) are less dangerous, unless they are combined with other factors, such as condensation. Cards that are kept in the cold, and in a place that is not sufficiently dry, will bend as the temperature drops. Games are like Goldilocks: they like to be stored in a place that's not too hot, not too cold, but juuuuuuuuust right.
Sunlight - Photodegradation, or "Sun Bleaching" as it is commonly known, is a process that occurs when a material is exposed to light, causing the colours in the material to become faded. Inks and dyes, like those used to print board games, are especially susceptible to it, the UV rays from the sun eliciting a chemical reaction in the pigments that resulting in them losing their colour. Keeping your games out of direct sunlight for extended periods of time will help ensure that they keep looking as bright and colourful as the day you bought them.
Proper Organizing - Games come in all shapes, sizes, and weights. This can make organizing them on your shelf a bit of a challenge in and of itself. Besides storing your games in a way that is aesthetically pleasing and easy to find, properly organizing your games helps keep them safe and secure. For instance, a good rule of thumb when you are organizing your games is to put the heaviest games on the bottom, closest to the ground. This prevents their weight from damaging other, lighter games, or from bending the storage shelves that they may be sitting atop of. (For instance, Gloomhaven, weighing in at a whopping 9 kilograms, SHOULD NEVER EVER be put on top of another game).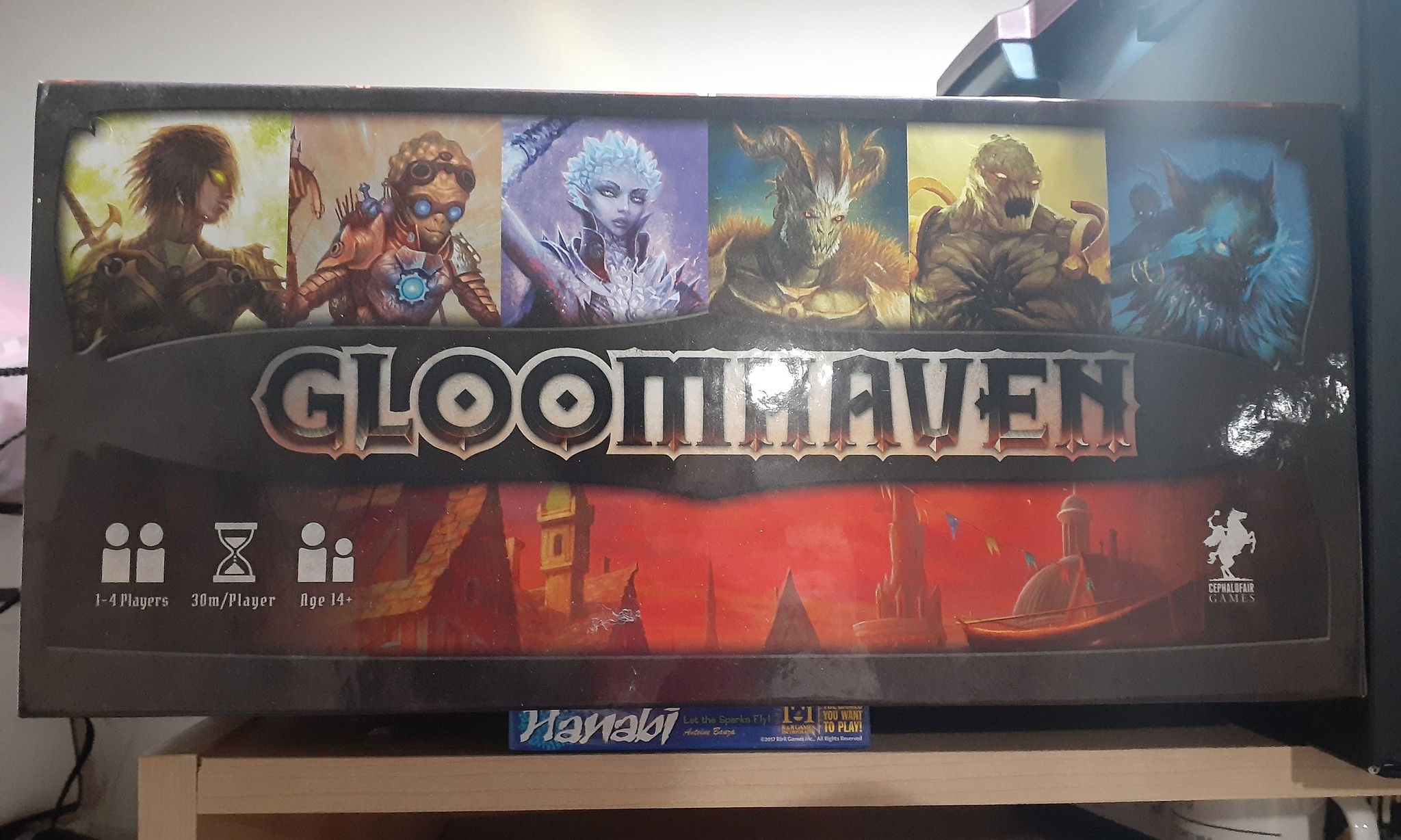 An extreme example of what not to do.
Putting your biggest and heaviest games at the bottom of your storage space also means the games have less of a distance to fall if it were to be dropped while someone was taking or returning it to its spot, decreasing their chance of damaging anything else on the way down. If you can, we find that storing your board games on their sides in rows (as pictured above), helps to maximize space, as well as prevents the problem of trying to decide which game to put atop of which.
All of these tips may seem like common sense, but even here in our store, we often find ourselves having to remind each other now and again. There's been many a time when we've had to reorganize our warehouse because there were too many heavy games warping a shelf, or when we have forgotten to put the blinds down in our display windows on a sunny summer day. It pays to remember the basics.
4. General Cleanliness
Honestly, hanging one of these for your games room wouldn't be the worst idea.
Ultimately, board games and food do not mix. In a perfect world, we would simply tell you to not eat while you play, but let's be real, we do it too. Tabletop games are often the centerpiece of social events - birthday parties, bachelor parties, RPG nights, and gaming leagues. And where people gather, food, drink, and good times will (and should) always follow. There's a reason that "beer and pretzels" games are their own sub category. Despite their natural antipathy, games and food go together like peanut butter and jelly, or peanut butter and chocolate, or peanut butter and dogs (we're realizing that peanut butter goes together with a lot of things).
With this in mind, keeping your games clean while you play is often a matter of simply being mindful. Designate a separate snack table away from the main one, so that people aren't reaching over the board to grab munchies. Provide individual plates that people can load up and eat over, preventing crumbs from falling on the table. Coasters prevent moisture stains, and help make people more cognizant of where drinks are so that an errant elbow is less likely to knock a half-liter of Mountain Dew onto your $60 dollar purchase.
And of course, as mentioned above, sleeving your games helps to prevent the general grime of skin oil and food grease from damaging your cards. Some of the highest quality sleeves can evens help protect their contents from spilled liquid.
In general, make sure that everyone is made aware of the rules regarding eating at the table, and is careful and considerate while enjoying their food and drink during play.
We hope that these tips have been helpful. The longer that a game lasts, the longer it is able to keep us and our loved ones coming back to the table for fun and laughter. Let us know if there's any tips you'd like to share for keeping your games safe!
*If you're curious, the most expensive game in our store is CATAN 10th Anniversary 3D Collector's Edition, currently clocking in at $1595 before tax. Released in 2005, it is an extremely limited edition of Catan, with only 5000 copies printed worldwide.
Leave a comment